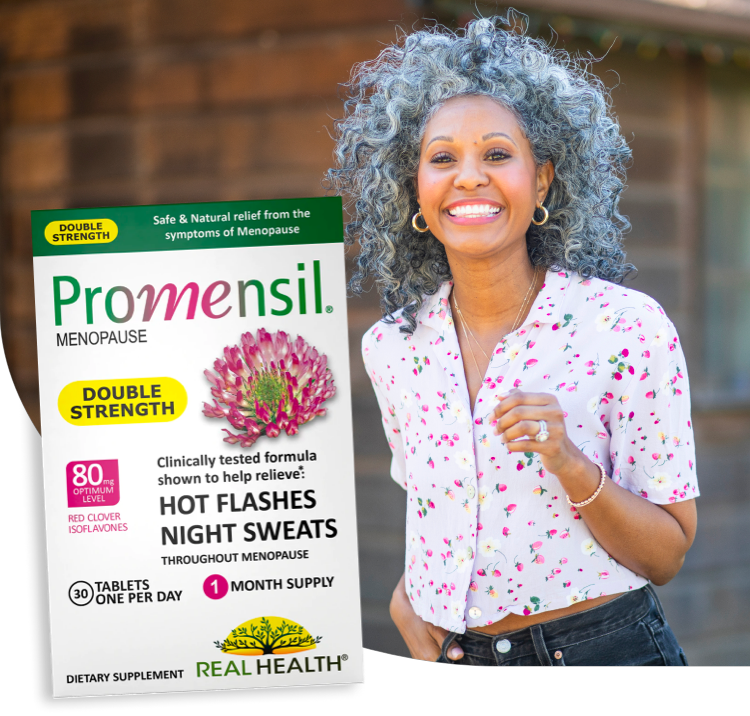 Feel Like
"You"


Again After 40

Meet Promensil: the menopause formula
women trust to naturally cool hot flashes
and support their wellbeing

120-Day Money-Back Guarantee
Thousands of happy customers

Recommended by doctors

4.3 stars on Amazon

Backed by over 15 years of research
Time-Proven Formula

For Better Sleep, Enhanced Mood And Calmer Days

Hear how other women relieve their menopause
symptoms with Promensil:
Works for my INTENSE hot flashes

I would have intense hot flashes every day. When I say intense, I mean soaked clothes, drenched, dripping wet hair and to the point of being nauseated. So I tried these immediately after running out of my Prempro... no more intense hot flashes. It takes my body about ten days to absorb and start feeling the effects... so don't give up immediately... do yourself a favor and at least give it the full 30 days, you paid for a 30 day supply... use it!

J. Thomas, Verified Author

Changed my quality of life

My doctor suggested this product. I have to say I could not be happier. I still have the occasional hot flash but it is mild and only lasts a short time. I have been taking a few months now and so far no memory issues and my mood has improved greatly. I do have a little more energy as well. I highly recommend this product.

Kristina, Verified Author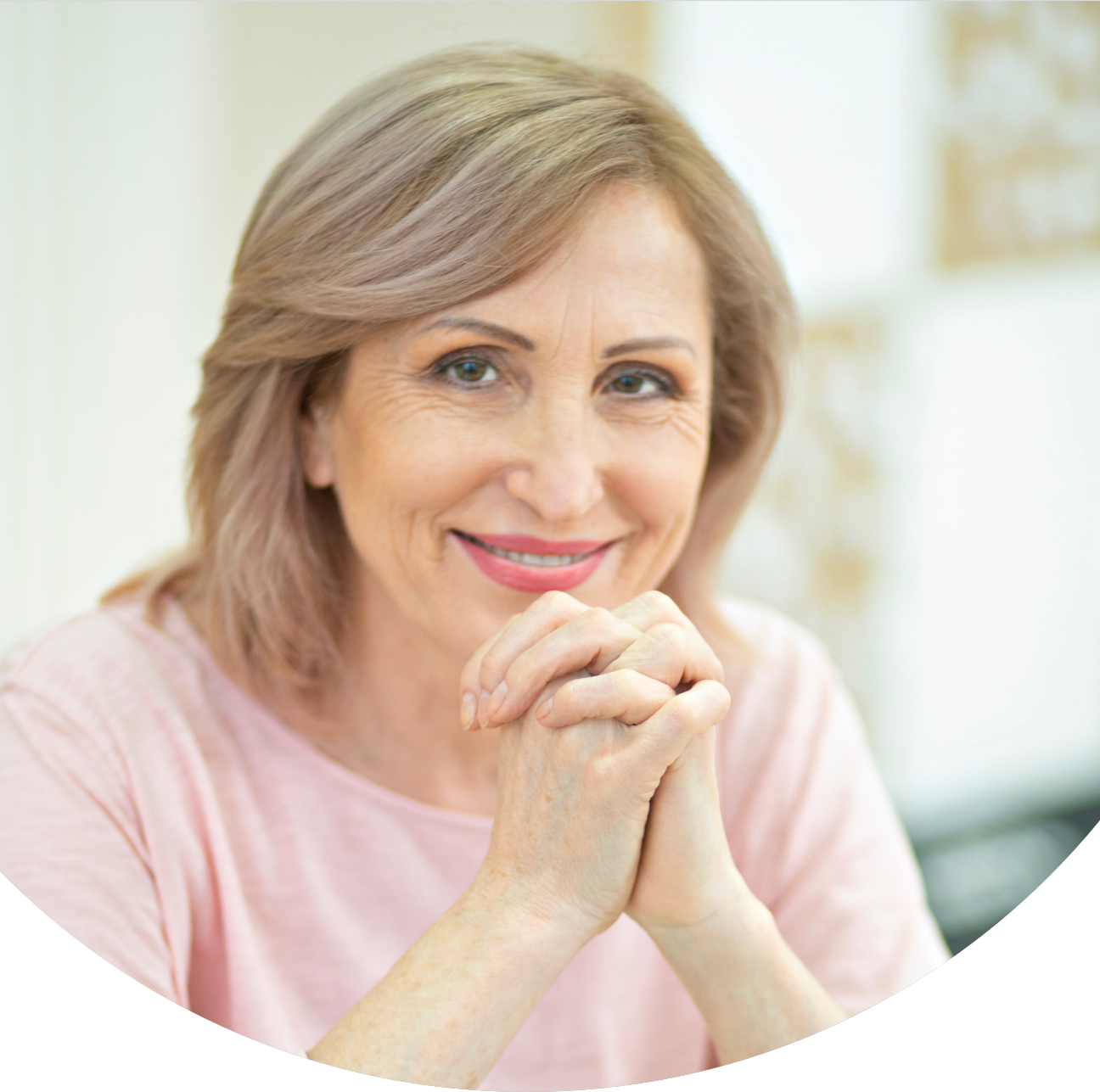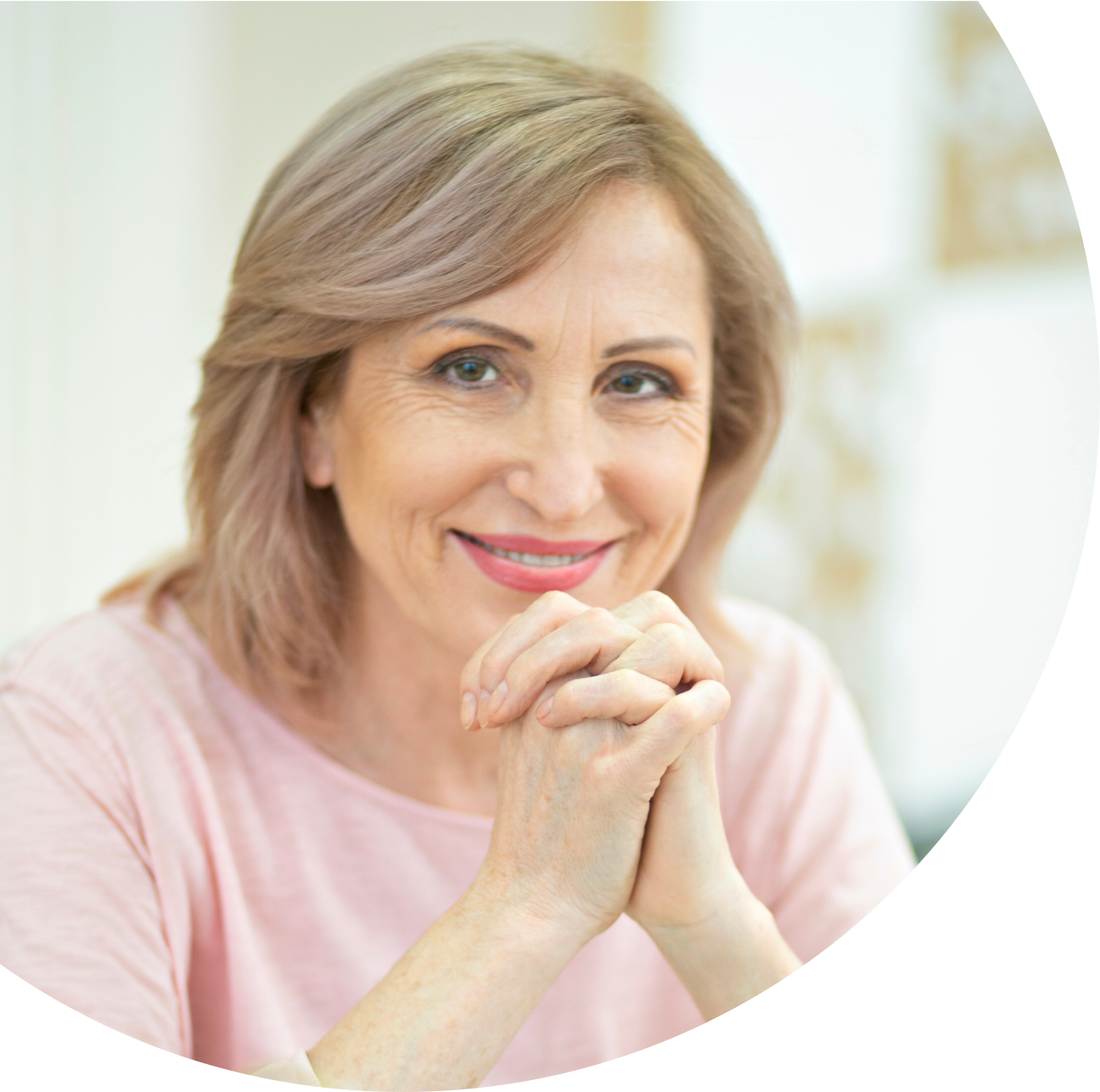 Welcome the Next Phase of Your Life With a Smile and Confidence
Far too many women see menopause as the end, instead of what it really is – a new beginning.
And while you can't avoid your body's natural changes, you can manage the severity of their symptoms. How? With the help of science and the power of a unique plant in the legume family, commonly consumed in Asia.
9/10 Women Agree It Works

18 Clinical Trials

Hormone Free
Easily Manage Your
Menopause Symptoms*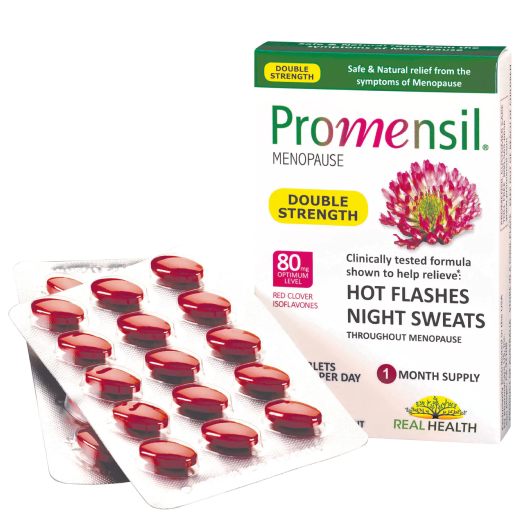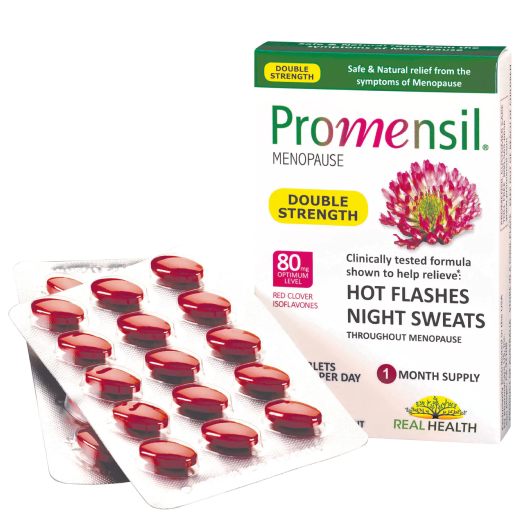 Cool Hot Flashes

Experience fewer and less severe hot flashes, so
you no longer have to suffer from uncontrolled
sweating or sudden skin redness.*

Control Night Sweats

Get the rest you deserve,
without waking up drenched in
sweat in the middle of the night.*

Calm Anxiety

Feel more confident and relaxed,
so you can be more productive
and creative throughout the day.*
The Secret Behind Promensil's Superior
Results:
Standardized Isoflavones
Isoflavones are a type of phytoestrogen found mostly in beans and other legumes. They have a similar makeup to estrogen, that's why they may be used as a way of mimicking its effects, and potentially reducing the menopause symptoms that occur with its decline.*

Promensil uses only high strength standardized red clover isoflavones, which have superior bioavailability to the standard soya and vitamin blends that a lot of other products use.*
Did you know?
Women in Asia have a much greater
intake of legumes and isoflavones. Only
10% to 25% of them report hot flashes
as compared with 70% to 80% of women
in the US.*
Ingredients That Deliver Results
Our formula contains clinically proven ingredients at their
effective dosages designed to target the root cause.
Red Clover Extract

Benefits

Rich in isoflavones that may help reduce hot
flashes, night sweats, and other symptoms
of menopause.*

50 mg

Calcium

Benefits

May reduce the rate of postmenopausal
bone loss, help prevent osteoporosis and
support muscle function.*

50 mg
How to take Promensil

Take one tablet per day
with food.

Customers reported best results when taking it at the same time each day.

Use consistently for at least two
months for best results.
Let's Beat
Hot Flashes

Together

If you feel tired of fighting with menopause, know that you're not alone– about 2/3 of women will experience menopausal symptoms.

You may experience the first symptoms 8-10 years before your actual menopause. This time is known as *perimenopause*. After menopause takes place, many women continue to experience symptoms for another 4 years. That's a total of 13-15 years of struggle!

Thankfully, with Promensil, you don't have to accept these symptoms as "just a part of getting older." With one tablet daily, you can feel great and in control during all three stages of menopause.
Women Agree
Promensil Works
Feel the Difference

With Just 1 Capsule Every Morning*

1

Month

Many women already feel
the difference, but if you
don't, keep taking Promensil
knowing consistency is
crucial for menopause health.*

2

Months

By now you may start to notice a significant reduction in the severity and frequency of hot flashes.*

3

Months

By continuing to take Promensil during Month 3 and beyond, you can further minimize menopause symptoms, sleep better at night and feel more energized during the day.*
Life-Changing Results:

See What Women Worldwide Are Saying About Promensil
100% worked for me!

After 5 years of searching I have found my solution to terrible menopause systems with an unactive thyroid gland. It's the red clover isoflavones. 🍀 😍, patented Formula. Works.Thank you x

Kate E. Verified Author

100% worked for me!

This helped with my hot flashes immediately. I attempted to not use it for a few days and they came right back. For me, this worked very well!

Wilma W. Verified Author

100% worked for me!

I have been taking these for nearly a month and omg what a difference they have made! After the first few days my anxiety all but disappeared and my mood swings were better. Read more...

Judith Y. Verified Author
Get the Relief
You've Been Waiting For
The best time to get back in control is now. Add Promensil to your daily routine and help your body beat hot flashes, night sweats and anxiety, naturally!*
Subscribe & Save 10%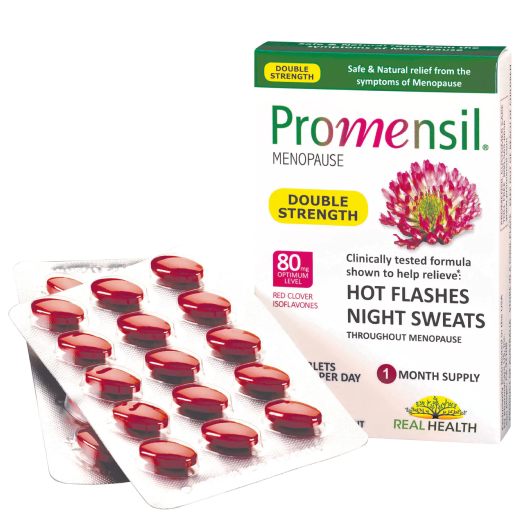 $27.89 /box
Easy cancel, anytime
120-Day Money-Back Guarantee
One Box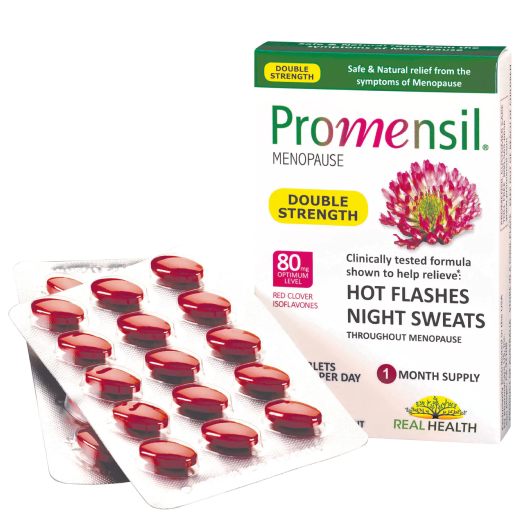 One-time purchase
120-Day Money-Back Guarantee
Order With Peace Of Mind Order With Peace Of Mind
With Our 100% Money-Back Guarantee
We want you to see what it's like to live the second part of your life with confidence and in comfort. Try Promensil for 120 days risk-free and get the relief you want, or your money back.
Frequently Asked Questions
Promensil is the most extensively studied menopause supplement based on red clover isoflavones, formulated to offer you a safe, natural, and hormone-free relief from hot flashes and other menopausal symptoms.*
Promensil works by leveraging the power of isoflavones, which are similar in makeup to the female hormone that declines with age, estrogen.* Modern scientific tests have shown that isoflavones may produce estrogen-like effects in the body, minimizing menopausal symptoms.*
Each tablet contains a standardized 80 mg of four isoflavones: genistein, daidzein, formononetin, and biochanin A sourced from red clover (Trifolium pratense), as well as 50 mg of calcium (Dicalcium Phosphate).
Promensil is recommended by healthcare practitioners for women experiencing menopause symptoms such as hot flashes, night sweats, occasional sleeplessness, anxiousness, and mood swings.
Take 1 Promensil capsule per day, every day – with food. Customers reported best results when taking it at the same time each day.
Do not use Promensil if you are pregnant, nursing, or lactating. Consult your physician before use if you have a medical condition, are taking any medications, and/or any type of hormone therapy (including birth control pills). Always read the label. Follow the usage directions.
Promensil takes time to work. In clinical studies of red clover, women experienced a decrease in menopausal symptoms by Month 3.* We recommend you take Promensil every day for at least three months for optimal results.